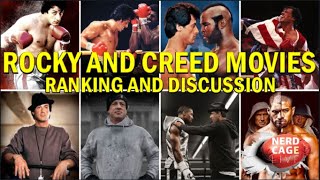 On this latest Ranking And Discussion video for Thanksgiving 2021, and in part of our #Rocky 45th Anniversary celebration, Marq and Jay welcome the panel of familiar faces including the mighty Titangoji and Brian from Monstrosities to rank all 8 Rocky and #Creed Movies.
Additional music provided by Epidemic Sound, from the video game "Rocky Legends", and "Eye Of The Tiger" (originally written and performed by Survivor) Metal Instrumental was provided by Guitar Tab Lab
Join the conversation at our official Facebook Discussion Group: https://www.facebook.com/groups/516827829468308
NOW WE ARE ON TIKTOK! Check Out Below! tiktok.com/@nerdcagelive
Produced by Marq Withers and Jay Saint G.
Intro Produced and Performed by Matthew Farden, Written by Jay Saint G.
Logo Design by Michael Long